Inspired by the Ukrainian & Crime/a crisis and the beginning Cold (crazy old) War renaissance, I mixed the anthems of the most involved countries/parties (Ukraine, European Union, Russia, United States), to show the international conflict & disharmonism in an artistic, audible way. There are 8 several mixes. Listen to the symbolized crazy, overlaying disharmony. Skip through the video to listen to a specific mix.
War Anthems - Musical Terror Video
War Anthems - Musical Terror Photo download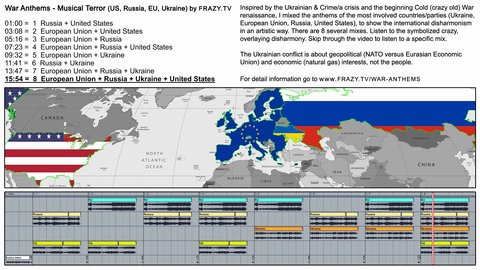 War Anthems - Musical Terror (US, Russia, EU, Ukraine) Photo download
Video-Info:
top left: timing, number 1-8 + countryies/parties
top right: short info
middle: world map with actual playing highlighted countries/parties
bottom: numbered anthem-mixes as audiofiles with waveform and cursor
01:00 = 1 Russia + United States
03:08 = 2 European Union + United States
05:16 = 3 European Union + Russia
07:23 = 4 European Union + Russia + United States
09:32 = 5 European Union + Ukraine
11:41 = 6 Russia + Ukraine
13:47 = 7 European Union + Russia + Ukraine
15:54 = 8 European Union + Russia + Ukraine + United States
As you may notice, I edit (duplicate/shorten) the US & Russia anthem, to get a similar length.
The Ukrainian conflict
The Ukrainian conflict is about geopolitical (NATO versus Eurasian Economic Union) and economic (natural gas) interests, not the people.
If you like to get more info about the real backgrounds of the Ukrainian conflict, check NATO expansion further east, versus Eurasian Economic Union, and Exxon Mobil, Chevron, Shell (Fracking) versus Gazprom.
At 13. Dec. 2013, Victoria Nuland, the Assistant Secretary of State for European and Eurasian Affairs at the United States Department of State, said, the USA invested more than 5 billion Dollar in the Ukraine. She´s the one who said "Fuck the EU".
Watch out the next country in this conflict: Moldova (Transnistria, Gagauzia).
Lets hope Putin, Obama, Merkel and all the others will come to peace, and not let geopolitical and economic interests cause international crisis again as we have seen it so many times.
Lets invest in peace. At least, we are all humans living on one planet.
Infos about the real background of the Ukrainian conflict:
In german language: Monitor Nr. 659 vom 13.03.2014
1) Krisenkatalysator: Wie mit dem Kampf um das Erdgas in der Ukraine Weltpolitik gemacht wird Link


2) Selbstverschuldete Abhängigkeit: Die SPD und das russische Erdgas Link
Iron Maiden at Maidan ?
Will the English heavy metal band Iron Maiden play on the the central square of Kiev, which is called Maidan Nezalezhnosti (literally: Independence Square)? I would call it: Iron Maidan. ,-)
CREDITS:
anthems:
European Union: Ode an die Freude - public domain
Russia: Russian Anthem - Creative Commons Attribution 3.0 Unported - www.kremlin.ru
Ukraine: Anthem-of-Ukraine Chorus Veryovka - public domain
United States: The Star-Spangled Banner - public domain
Flag of Europe - public domain
Flag of Russia - public domain
Flag of Ukraine - public domain
Flag of United States - public domain
world-map: 1-12 Political Color Map World - public domain
Speaker:
Software: MARY Text-to-Speech System - GNU Lesser General Public License.
Voice: dfki-spike-en - CC-BY-ND
Related:
28 Synapsenkitzler tracks mixed to one track by layering
Update 10 February 2015: Crappy untuned orchestra play russian anthem to Putin live at official visit in Egypt
At the official visit of russian President Vladimir Putin in Egypt, the Russian national anthem is played extremely untune, phony by Egyptian orchestra live. Check Putins face reactions while listening to this crappy, nonsense version of his anthem.
Russian national anthem orchestra fail. (video)
Update 23 March 2014: Ukraine Beethoven flashmob
Members of the Odessa philharmonic orchestra play Beethovens "Ode an die Freude" (ode to joy), the European Union hymn, in a flashmop at Odessa. It's impressive, and another musical sign in the Ukraine conflict.
Ukraine philharmonic Beethoven flashmob (video)
Is Putin gay? Stop homophobia! Photo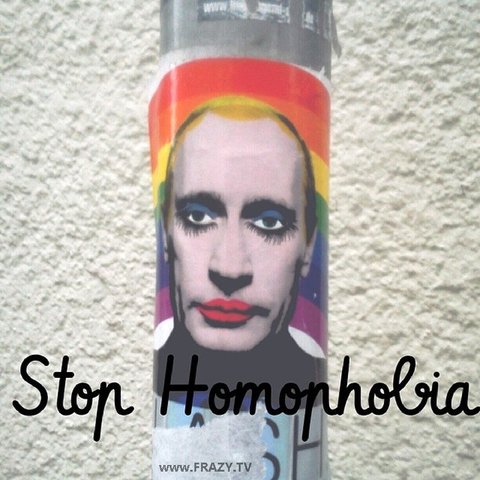 Click for large photo download