LeFloid & Merkel grunzen wie Schweine #LeFerkel (Interview)
Die zentralen Kernaussagen von Merkel aus dem LeFloid Interview in einem best of video:
Best of LeFloid Merkel Interview vom Synapsenkitzler. LeFloid + Merkel = Haschtag #LeFerkel ;-)
#NetzfragtMerkel : Sind Politiker Schweine?
#MerkelAntwortetNetz : Oink.
Musik im Hintergrund: Frazy vom Synapsenkitzler
Text aus dem Video:
Oink oink oink. Grunz grunz grunz.
Photo aus dem Video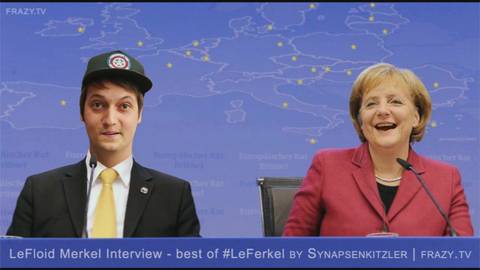 download HD Photo aus dem Video Best of LeFloid Merkel Interview vom Synapsenkitzler
animiertes gif aus dem Video

klick für GROSSE ANSICHT des animierten gifs
Credits:
Musik, Animation & Video by Synapsenkitzler - Frazy.Tv
LeFloid Photo: "Re-publica-2015-05-06-P5060660-leFloid" by Netaction - Own work. Licensed under CC BY-SA 4.0 via Wikimedia Commons.
Merkel Photo: "Angela Merkel" von Tobias Koch - OTRS. Lizenziert unter CC BY-SA 3.0 de über Wikimedia Commons.
Schweine Sounds: http://www.freesound.org - CC BY 3.0
Kommentar zu dem LeFloid Youtube Interview mit Merkel
Zur Klarstellung: Ich finde was LeFloid macht top. Nur dieses Merkel Interview ist ein nicht so glücklicher Ausflug von LeFloid aus seinem sonst so guten Youtube-Kosmos.
Merkel selbst sagt ja am Ende des Interviews: "Das Internet ermöglicht es ja, dass ich mir sozusagen meinen eigenen Sender baue, und nur noch Fragesteller habe, die das Fragen, was ich gerne hätte." Das das zugelassen wird, ist ein großes Problem bei dem LeFloid Interview.
Kommentar von Richard Gutjahr, BR: "Das große Youtube-Interview der Kanzlerin, die geschickte Instrumentalisierung eines Youtube-Stars von dem das Kanzleramt nichts zu befürchten hatte." Siehe Video:
Siehe auch: